Yesterday we received our hard copy Letter of Approval from China!
(AND New Pictures thanks to Love Without Boundaries)
That means we are likely a month away from traveling to get Laila!!! AAAGGHHH!!!
We are SO excited! As I sat at Chengbin's transfusion today playing with him it occurred to me that this is his last transfusion with Mommy by himself! Next time it's my turn for transfusion day, Laila will be with us, FINALLY getting the large volume of blood she needs to get her hemoglobin raised up where it should be! She's finally going to get all the medical care and love of a family that she deserves!!! What an amazing thing adoption does to change the life of one child forever...
While we are extraordinarily excited that we have a month to go, it's also a bit overwhelming. In spite of our best efforts to pay for the adoption all we can personally, fundraise, and apply for grants- we are short by $12,000 right now.
We have been very blessed by all our friends and family who have made contributions, bought shirts, and raffle tickets and offered up their prayers to help this little girl on the other side of the world.
(Since we didn't get any takers on the camera, we've decided to donate it to a family that will be departing soon for their adoption.)
And we'd like to announce our final adoption fundraiser!!
There's a story that goes something like this: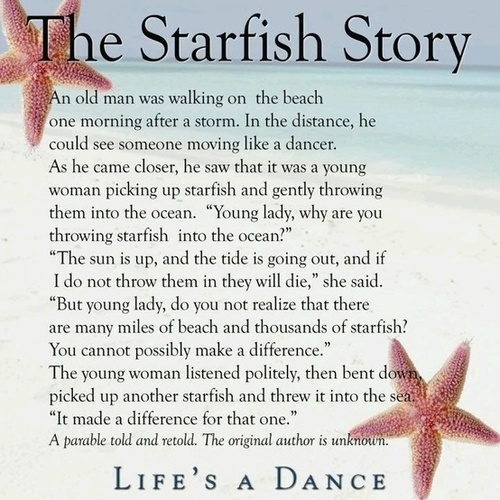 There's so much truth to this short story. Today we are making the difference for this one, Sweet Laila Jean. We are ALL making a difference for her, cause if you have offered to contribute or simply offered up a prayer to God on her behalf, then, YOU are part of changing her life too!!
So in honor of all of you who have already helped, and those who may still want to do more and do something for the first time we offer this...
Be a Piece of the Puzzle! Help Save Her Life!! For those who have helped so far, a puzzle piece will have your name on the back.
We have been given a $2500 matching grant, but it only gets sent to the agency if we match that amount in donations!
We will be asking our friends, family, & even strangers to help bring Laila home by sponsoring a piece of the puzzle. It will be a donation of $10 per piece and we will be writing your name on the back of the pieces you sponsor. Once the puzzle is complete, we will be framing it in double sided glass and it will be hung in Laila & Katie's room. When she is older she will be able to turn it over and we will talk to her about God's special plan for her life, and tell her how many people loved her, supported her, and even helped to pray her home.
Since the goal is to meet our matching grant amount, there's two ways to donate to Lifesong.
1. Go the fast & easy way! Make a tax deductible donation to our lifesong matching grant here. Family name/code: Wilks/4622
https://www.lifesongfororphans.org/give/donate/one-time/?giftchoice=Adoption%20Funding&adoptionfunding=Family%20Specific
2. Go old school- especially good if your donation will be larger since there's no paypal fees this way. If you would like to make a tax deductible donation with a check, ensure our Family Name/Code is in the memo section and you may send it to:
Lifesong for Orphans P.O. Box 40 Gridley, IL 61744
Next, please message me on Facebook or email me at
mepscoastie@yahoo.com
to let me know how many puzzle pieces you'd like & the names for me to put on them! I can't wait to start posting pics of puzzle pieces with names on the backs of them, showing love for our sweet girl!!
Thank you to EVERYONE who has been helping this little girl. It's been said that it takes a village to raise a child. We are so grateful for the VILLAGE OF SUPPORTERS happily answering the call to change our child's life!!! Thank you from the bottom of our hearts!!
Blessings,
Fannie, Matt, Kate, Chengbin, & Laila